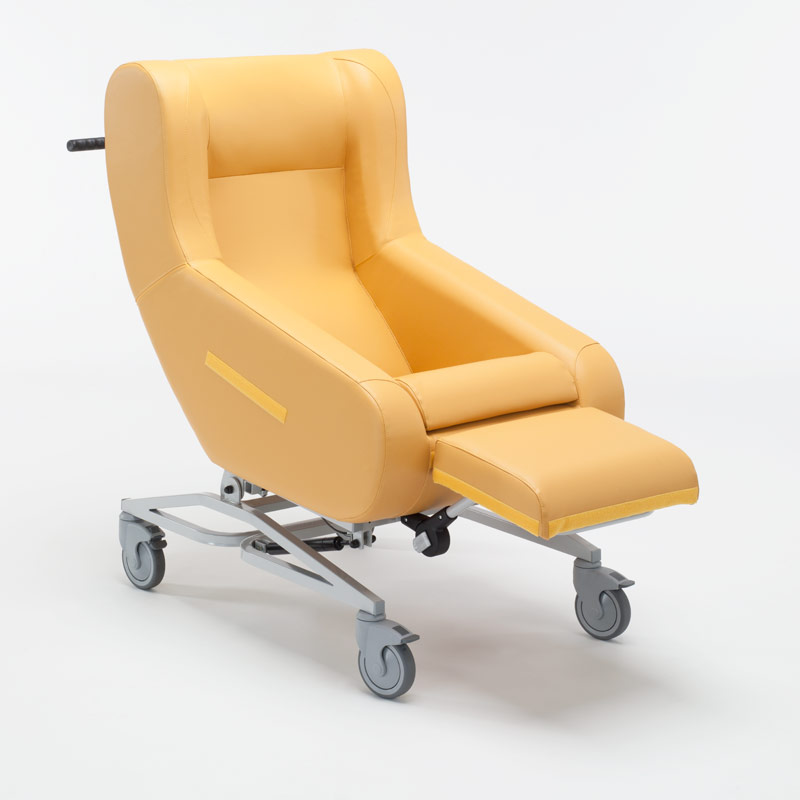 Who needs culla-chair?
culla-chair is a relief for people with physical and mental disabilities as well as for elderly users. It helps people with muscular problems, with decubitus and it calms patients suffering from Alzheimer and Parkinson. culla-chair improves the quality of life at home, in nursing homes or any other accommodation facility.
What can the patient expect of the culla-chair?
culla is a therapy- and relax chair but also a daybed;
it offers cosiness and relax to patients. It is easily maneuverable and with its lockable casters are extremely mobile (culla chair indoor);
the outdoor models have a hand brake on the handle;
the sitting/lying position is easily regulated. Its nest-like shape adapts to the body, gives sustain, safety and warmth, and the patient cannot leave the chair without help;
patients "go back to their childhood": the cosy cradle shape of culla chair gives users a sensation of being protected. This is a very powerful calming effect;
the perfect shape and high quality upholstery grant an optimal position, both sitting and lying. The comfortable front or lateral access facilitates an active transfer of patients;
the backrest is longer/ higher and therefore suitable for taller patients;
the ergonomic headrest has an extra soft upholstery and is streamlined into the backrest;
culla has an integrated side head-protection;
culla chair balance has an extra soft headrest that is removable and adjustable in height;
culla chair balance transfer has one detachable armrest, thus enabling a simpler lateral transfer of the patient;
the armrest and the side cushions are ergonomically formed;
the footrest is extra softly padded, rounded, infinitely variable in regulation and extremely easy to adjust;
culla can be equipped with a removable and adjustable reduction cushion: this allows optimum positioning of the patient in the sitting / lying position;
culla simply swings between seating and reclining positions thanks to very comfortable lever on the handlebar;
transfer of patients to and from a culla is made easier by a very low entry position; the footrest can be folded under the seat and is therefore no obstacle to the transfer;
culla has no irritating seams in the seat area: all seams are processed inwards; no nooks and crannies on culla, therefore no hidden dirt deposit: a big advantage during cleaning;
the fire proof eco leather cover can be wiped off and adheres to all legal requirements;
the memory foam provides support for neck, back and glutei of patients when at rest. Memory Foam is pressure relieving and perfectly conforms to all points of support of the body, thus preventing bedsores: patients can rest for hours in a culla, making it a perfect daybed.
Quality is not there by chance: it is the result of research and experience. We would like to offer you high quality at a reasonable price, as well as a reliable service, all made in South Tyrol / Italy… and we are convinced you will like our new culla-chair with all its advantages.
Click this link to see the whole range of culla.