PERTE: a new therapy distribution trolley
16/07/2021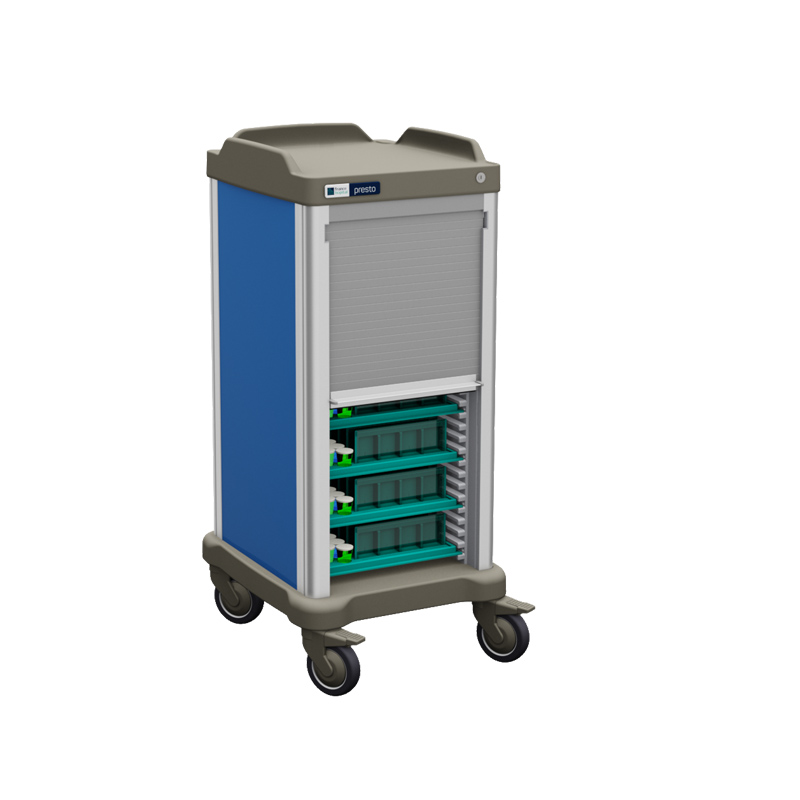 The PERTE trolley has a lightweight structure, with posts in extruded aluminium, walls in composite material available in 6 colours (aluminium, white, blue, green, pink and orange).
Top and bottom are in moulded ABS technopolymer: the worktop incorporates push handles on three sides.
The wide range of accessories available on all FH solutions can also be used on the PERTE trolley, such as:
the side accessory rails,
the wastebins,
the bottle holder,
side baskets
and much more.
The PERTE trolley can also be equipped with:
a lateral folding table, where the therapy card can be placed, but also with
an arm or support complete with a computer, All-In-One, tablet or laptop if the healthcare facility uses a computerised system.
The PERTE trolley is suitable for nursing homes or long-term care wards, where the variation of therapy is very low and the daily therapy is prepared in advance.
In fact, each dispenser is divided into the 4 classic moments of administration: morning, afternoon, evening and night and is closed with a sliding lid to facilitate distribution.
Dispensers are set up during the night shift or in any case in advance of the first dispensing time, in order to facilitate and reduce distribution and dispensing times.
The PERTE trolley is compact, practical and flexible, easy to sanitise, safe and pleasant to use.
Name: PERTE
Code: PRT9X-S-xx (colours: -AL aluminium, -WH white -AR orange, -GR green, -BL blue, -PR pink)
Shutter: grey colour
Compatible with trays: size 450×340 mm
Capacity: 28 rails, for max 28 trays (the quantity also depends on the type of dispenser and cup used)
Dimensions (mm): 510x595x1150 total height / 1095 height at worktop
Wheels diam. 125 mm – 2 with brake
Weight: 35 kg
Availability: immediate