Linen management in healthcare
27/07/2021
Estimated reading time: 8 minutes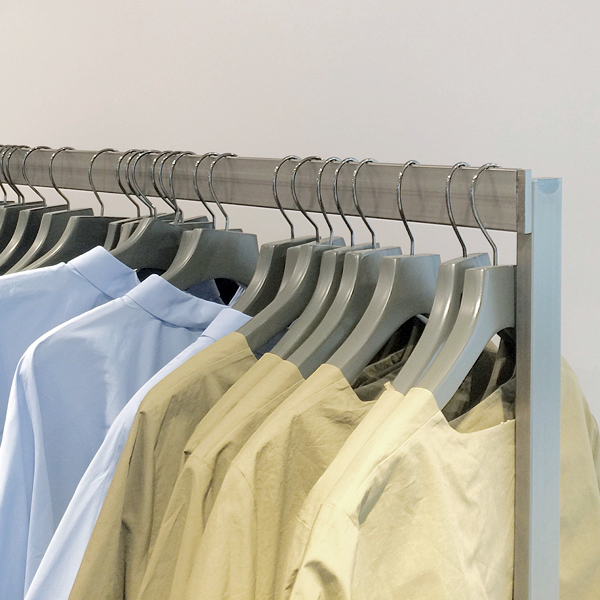 The generic term linen is used, which includes:
clothing for healthcare personnel: operators' gowns and uniforms (typically 3 pieces: tunic, trousers and gown)
patient gowns (typically 1 piece)
patient bed linen
operating room linen (always involves sterilisation and over-packaging)
There are two main flows that linen goes through:
clean linen flow
dirty linen flow
It is important to emphasise that these two flows, and therefore routes, should always be kept physically separate in order to reduce contamination as much as possible.
This applies to any healthcare facility: hospitals, clinics, retirement and nursing homes, long-term care facilities, outpatient clinics, etc.
But there are also other precautions that could reduce the risk of infection and contamination if properly applied.
We see them below.
CLEAN LINEN
Clean linen may come from inside the establishment or from outside if the service has been outsourced. In any case, the linen will arrive clean, probably over-packed, and must remain clean until it is used: this is the first practical problem.
And while linen remains clean it must be transferred to the relevant area, which may be a sub-warehouse or the ward as the end point of use.
TRANSPORT
Whatever the destination, it is necessary to take into account the type of transport, which could be:
entirely roofed (in aisles or under canopies)
on a smooth surface (tiles, marble, technical surfaces)
with or without the use of lifts or elevators
partly outdoors (where it may rain)
on rough or uneven surfaces.
For each of these cases the type of vehicle and above all the type of wheels must be assessed. >>> here a link to an article on our website also dealing with wheel features
The following must also be considered:
the volume to be transported
the distance to be covered
the spaces through which it is necessary to pass (aisles, pavements, bottlenecks, lifts, corners of aisles, etc.)
whether the transport is done by hand, with the use of tractors or with automated systems such as AGV robots.
>>> here a link to our clean linen transport containers
STORAGE
Once at the destination, the choices and constraints for storage arise:
is clean linen stored in a sub-warehouse?
or does it have to travel further to its final destination?
If the clean linen has arrived at its final destination:
where is the material stored?
how is it stored?
>>> link to MOSYS for clean linen >>> link to MOSYS-ISO shelving systems
We must not forget that clean linen is then separated according to type and use.
For example, clothing for healthcare staff (gowns, uniforms, etc.) will not be stored in the same way and in the same place as bed linen and patient linen. The same applies to linen for the operating theatre.
DISTRIBUTION TO THE WARD
There are various systems for distributing clean patient bed linen.
Some facilities prefer to use the distribution trolley as a cupboard. In this case, the wardrobe trolley can also be the same trolley in which the clean linen arrives from the laundry.
In other facilities a fixed wardrobe or shelving unit is used: from here the trolleys are loaded to go to the patient rooms.
Whatever the linen distribution system, there are basically two ways to keep linen clean and safe:
cabinets and trolleys closed by doors or shutters (if possible with a key lock or with a numeric code or badge)
cupboards and shelves that are open, but placed in a clean and protected environment (if possible with a door with a key lock or with a numeric code or badge)
AT THE PATIENT'S BEDSIDE
Different solutions can be used when distributing to patient beds:
dedicated trolleys, with or without doors
>>> link to ESSENTIAL SINGLE trolleys >>> link to MOSYS UC trolleys
general trolleys or combined trolleys: they have space for clean linen, and also allow other tasks to be carried out, like patient hygiene, waste collection, sorting of dirty linen
>>> link to ESSENTIAL DUAL
DIRTY LINEN
As we have seen, when distributing clean linen, the focus is on keeping it clean and avoiding contamination.
However, when collecting dirty linen, attention must be paid to two fundamental elements of the system:
the laundry: it has its own specific operational requirements
the operators handling the laundry: their safety must be protected by all means.
THE LAUNDRY
In order to plan the washing and subsequent finishing cycles, the laundry needs to receive linen separated according to various criteria.
The healthcare facility may have to sort according to
washing temperature
fabric composition
degree of soiling
flat bed linen (sheets, pillowcases, bedspreads, blankets, etc.)
clothing for healthcare staff (gowns, uniforms, etc.)
size of linen
type of finishing required after washing:
a. how it is dried
b. how it is ironed
c. how it is folded
d. whether it is sterilised
THE OPERATORS
Obviously, the uniforms of operators, nurses and doctors come from the facility's changing rooms and are usually directly sorted by them.
As for patient's bed linen: it is collected by an operator and it is assumed that it is all potentially infectious.
It must therefore be avoided that operators contaminate themselves with
patients' body fluids
residues of medication
bacteria and viruses
Personal protective equipment is undoubtedly the first protection for staff.
But a great help comes from the use of bag holder trolleys, which facilitate the sorting of soiled linen directly at the patient's bedside, with just one handling, thus reducing the possibility of contamination.
It also means that laundry operators do not have to hand-sort all the dirty and potentially infected linen coming in from wards, operating theatres, clinics and other points of use.
WRAPPING BAGS AND DEDICATED BAG HOLDER TROLLEYS
These trolleys have systems that allow the wrapping bags to be easily attached, as well as having foot pedals to open the lids: less use of the hands, which reduces the possibility of operators coming into contact with potentially infected surfaces.
Different types of trolleys exist: for one, two or more bags.
There are several ways of collecting dirty linen: one operator might pick up all the pillowcases with a single trolley, while another operator picks up all the sheets with a double trolley. Or an operator picks up everything using a 4-bag trolley, sorting the different types of dirty linen in consultation with the laundry.
There are also combined trolleys that allow to add a waste bag holder to the laundry bag holders, in order to separate and dispose of any waste that is encountered during the bed change.
Of course, there are dozens of different ways to handle this delicate task. FH has solutions that address practically all of them.
There are several manufacturers of bags for collecting and sorting dirty linen.
FH has embraced the logic of wrapping bags since the 1970s, facilitating their use and spread, continuously improving the bag retention mechanism and the trolleys dedicated to them, making this system even easier to use.
>>> LINK to the ISEO line – hamper trolleys
Wrapping bags are so called because they have two overlapping, unstitched flaps. When such a bag is placed on the holder, it is kept closed by the retention ring which keeps the overlapping flaps closed and in place. Once the bag is full it is removed from the bag holder and closed with a lace. From now on, no-one will come into contact with the soiled linen inside the bag. Bags are then taken to the laundry on trolleys or in containers.
>>> link to container for dirty linen
Bags are colour coded. Once they arrive at the laundry, the colours will indicate exactly what is inside, thus avoiding the operator having to open the bags and sort the dirty linen!
The operator in charge of loading the washing machine will simply have to open the lace that closes the bag and load it into the washing machine: once the washing process has started, the bag will open by itself during tumbling. This way, the bags are washed as well as their contents.
VERY IMPORTANT REMARK
FH's wrapping bags hold up to 12kg of linen, and are reusable up to 2500 times: an environmentally friendly choice, in comparison to single use laundry bags!
The wrapping bags are made of polyester and are available in various colours:
white with coloured stripes in 5 different colours
coloured, in 5 colours, with a strip of the same colour
The laundry service should give guidance to the wards on which colour to use according to the type of laundry.
The wrapping bags for sorting and collecting soiled linen can also be customised with the facility's logo or other information on request.